Today's Special is… 8 brand new, time-limited seasonal menus from K11 Art Mall's collection of delectable restaurants! Highlighting this autumn's must-try dishes that will have you licking your lips for more, taste the ocean's freshest delicacies like abalone, oysters, Norwegian salmon and tiger prawn along with grass-fed wagyu and other seasonal produce. 'Today's Menu' brings to you the best to try at K11 Art Mall, so you don't have to think twice on what to eat whenever you're around!

1. Ah Bu's Signature Cantonese Dishes Set

Ah Bu is a modern Chinese eatery bringing traditional, time-honoured Cantonese 'yum cha' flavours to the hearts and appetites of the next generation. Launching a 4-person set menu that spotlights two seasonal favourites—Salt and Pepper Abalone and Sugar Snap Peas with Diced Wagyu Sirloin—the shop's Signature Shantou 'Rolled Goose' together with the Deep Fried Prawn Turnip Cake gives a true taste of Cantonese culinary excellence.

4-Person Seasonal Set Menu
HK$925 (25% off, original price HK$1,228)

Includes:
Stewed soup
Salt and Pepper Abalone
Signature Shantou 'Rolled Goose'
Deep Fried Prawn Turnip Cake
Sugar Snap Peas with Diced Wagyu Sirloin
Sweet and Sour Spanish Pork
Stir Fried Vegetables
Dessert

Location: 310 - 311, 3/F, K11 Art Mall
Tel.: 3118 8066




2. 8 Loeng's Hong Kong Style Hotpot with Daily Chef's Recommendations

8 Loeng is based on the ancient Chinese measurement unit of "両" or tael (equivalent to 50g in modern times). Selecting the best six to eight beef cuts daily, the 2- and 4-person set menu highlights the wagyu brisket, brisket fat and chuck steak. Thinly sliced and evenly marbled, the brisket explodes with umami with every bite; brisket fat is a typical Chinese hotpot dish with a nice and chewy texture that carries a crisp flavour; beef chuck steaks are soft and tender, with a strong meaty taste that satisfies all meatlovers. Paired with the store's signature Flowering Fried Bean Curd Roll that takes in all the umami of the hotpot's broth, 8 Loeng's just the place to enjoy a hearty meal.

2-person Set Menu HK$538 (32% off, original price HK$788)
4-person Set Menu HK$988 (32% off, original price HK$1,528)
Location: 201, 2/F, K11 Natural
Tel.: 3619 1281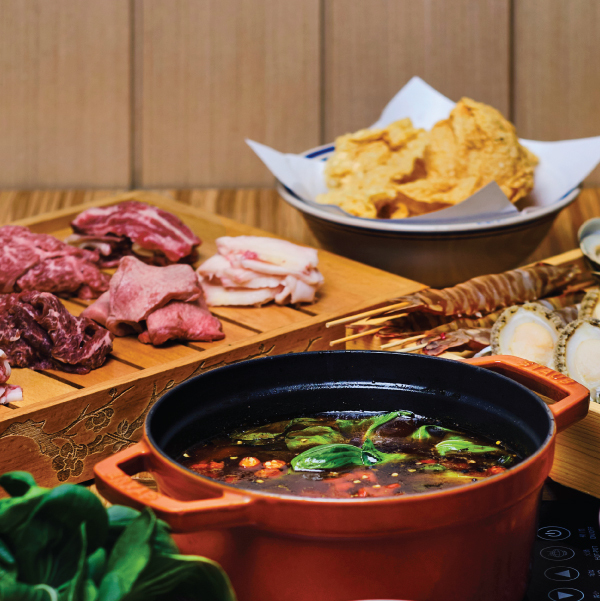 3. Pound & Roll Australian

Specialising in healthy dishes, Pound & Roll uses fresh ingredients to present an array of East-meets-West fusion delights, this time presenting a special set featuring Australian ribeye at an affordable price. Graded as M4 (meat quality rating), the grass-fed Australian-bred wagyu has a stronger meat flavour with slightly tough, chewy texture.

HK$198 (40% off, original price HK$328)
Location: B104, B1/F, K11 Art Mall
Tel.: 2618 4683




4. MITA SEIMENJO's Salt Based Sea Bream Broth Ramen

Specialising in tsukemen (dipping noodles), MITA SEIMENJO's signature house-made fish and pork broth with special, custom-made chewy noodles has long been a favourite of ramen-lovers. Spotlighting the sea bream and its delicately sweet flavour, the brand's serving up two new items featuring a clear fish broth base: the Sea Bream Salt Ramen and Sea Bream Salt Tsukemen.

Sea Bream Salt Ramen (regular) / Sea Bream Salt Tsukemen (any size) with 3 servings of Yuzu Fried Chicken and Soft Drink

HK$114 (10% off, original price HK$132)
Location: G21 - G22, G/F, K11 Art Mall
Tel.: 2513 5311




5. Dao Cheng Taiwanese Restaurant Set Menu for 4

With nostalgic interiors and authentic Taiwanese dishes prepared with traditional cooking methods and high-quality ingredients, Dao Cheng's specially curated set menu brings back the flavours of old Taiwan with their Signature Braised Pork Rice, made with ingredients imported directly from the country. Bringing in three new appetisers, the brand's menu consists of the old Taiwan favourite––Fried Oyster Omelette––topped with black truffle and Marinated Foie Gras with Goose and Tofu Slices, Double-boiled Young Coconut with Chicken, Abalone and Asian Moon Scallop, with Braised Pork Knuckles for a tasting experience that transports you right to the heart of Taipei.

All-new 4-person Set Menu
Marinated French Goose Liver with Goose Slice and Honeycomb Tofu (4 pcs)
Double-boiled Young Coconut with Chicken, Abalone and Asian Moon Scallop (2 bowls)

Fried Oyster omelet with Black Truffle
Stir Fried White Bitter Melon with Angus Steak
Braised Pork Knuckles
Lettuce with Cowpea and Cordia Dichotoma
Taiken Premium Rice with Braised Pork (4 bowls)

HK$850 (10% off, original price HK$944
Location: B105 - B106, B1/F
Tel,: 2669 3300




6. Ricky's Kitchen Ricky's Recommendation Dinner

Hong Kong's leading chef Ricky Cheung re-interprets different classic Hong Kong-style Western dishes with innovative recipes for high quality foods at affordable prices. Taking guests on a tasting experience that highlights the expert culinary technique of the brand, the recommendation menu serves up the all new Ricky's Style Baby Pigeon in Swiss Sauce, Norwegian Smoked Salmon with Parma Ham and Vegetable Rolls, and Pan-fried Lamb with Herbs to offer diners a truly Hong Kong-style western dinner with Chef Ricky's unique vision.

Soup - 48 Hours Borscht Soup
Salad - Norwegian Smoked Salmon with Parma Ham and Vegetable Rolls with Sesame Vinaigrette Dressing
Appetiser - Ricky's Style Baby Pigeon in Swiss Sauce
Main - U.S. Beef Filet With Pate / Pan-fried Lamb with Herbs
Dessert - Cheesecake with Coconut Ice-cream

HK$288 (original price HK$398)
Location: B233A, B2/F, K11 Art Mall
Tel.: 28885 2235




7. HOW To Live Well

Founded in 2016, HOW To Live Well is a lifestyle Concept Store, Design Studio and Production House aiming to create spaces where people can come to relax and take a break from the daily grind. Taste the sweetest flavours of nature's autumn harvest with the restaurant's all new Vegan Pizza complete with gourmet gold zucchini, spargel, tomato, mushroom and yams. Bringing back the seasonal favourite from their previous outpost in Kwun Tong, the Fettuccini with Tiger Prawn and Crab Meat is better than ever with a revamped recipe. From appetisers to mains, take your pick of delectable dishes in the Set Meal for 4 and indulge in the joys of the autumn harvest at HOW To Live Well today!

HK$988
Location: 201, 2/F, K11 Natural
Tel.: 3705 3709 / 5640 0455 (Whatsapp)
Set Meal not applicable from Fridays - Sundays and Public Holidays.


02 Sep 2021 - 31 Oct 2021